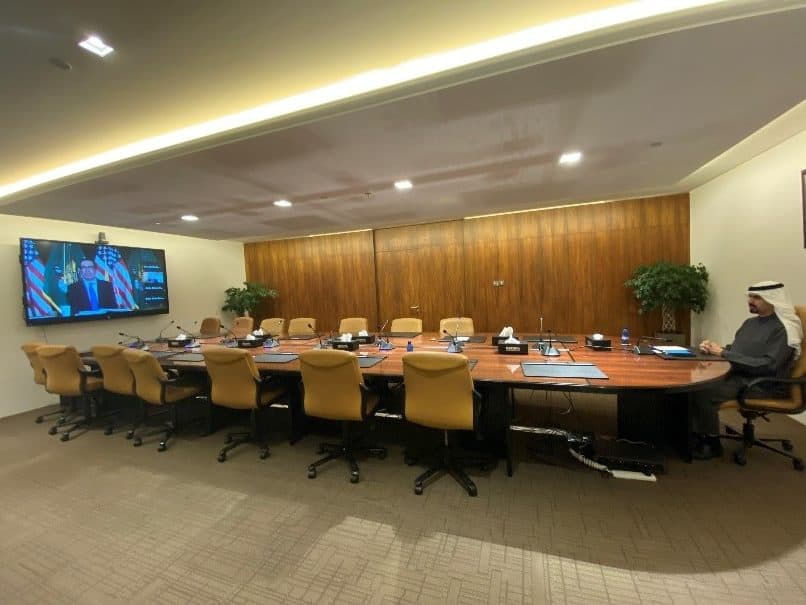 KDIPA and the U.S. Chamber of Commerce co-organized the 4th Annual U.S. – Kuwait  Economic Forum held virtually on November 17, 2020. The forum, aimed at highlighting the strength of bilateral economic and commercial relations and the pivotal role of the private sector in both countries to further their collaboration, as well as reviewing the latest investment developments in the State of Kuwait.
The forum started with opening remarks by KDIPA's Director General Sheikh Dr. Meshaal Jaber Al Ahmad Al Sabah, followed by Mr. Khush Choksy, Senior Vice President for Middle East Affairs, US Chamber of Commerce, and Mr. Faisal Al Mutawa, CEO, Ali Abdulwahab Al Mutawa Commercial Company; Co-Chair of the U.S.-Kuwait Business Council.
The forum program an in-conversation section with Mr. Steven Mnuchin, U.S. Secretary of the Treasury, with Mr. Farouk Bastaki, Managing Director at Kuwait Investment Authority, moderated by Ron O'Hanley, CEO and Chairman, State Street Corporation and Co-Chair of the U.S. – Kuwait Business Council.
The economic forum presented one panel that focused on showcasing Kuwait's Economic Priorities Post- COVID-19, moderated by Steve Lutes, Vice President, Middle East, U.S. Chamber of Commerce. The panelists included Eng. Salim Muthib Al-Ozainah, Chairman & CEO, Communication and Information Technology Regulatory Authority, Mr. Selim Edde, Head of Public Policy and Government Relations Middle East & North Africa, Google, Mr. Hashem S. Hashem, Deputy Chairman and CEO, Kuwait Petroleum Corporation, and Mr. Joseph Anis President & CEO, GE Gas Power Middle East, North Africa & South Asia.