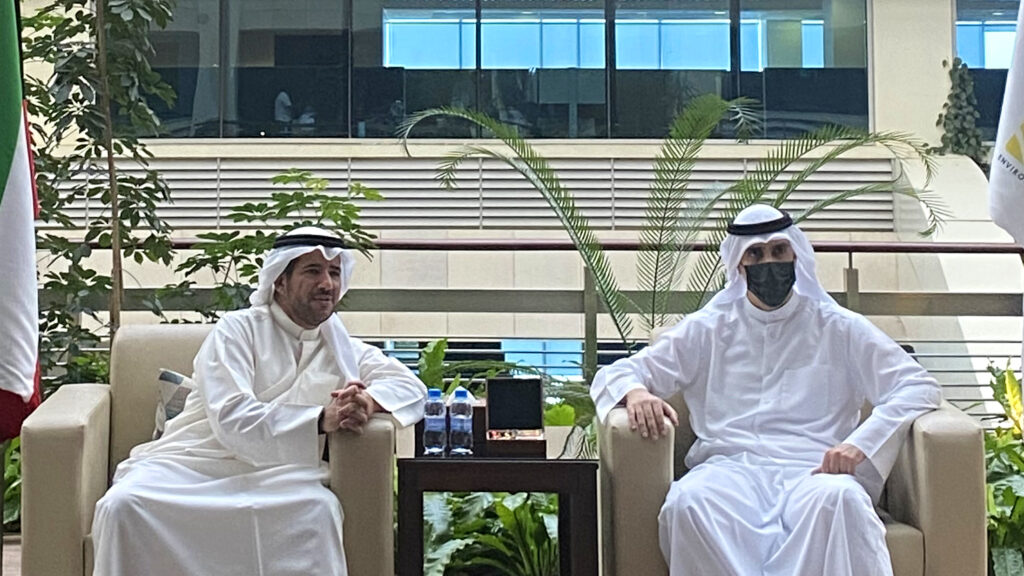 Kuwait Direct Investment Promotion Authority (KDIPA) Director General, Sheikh Dr. Meshaal Jaber Al Ahmad Al Sabah, met with the Environment Public Authority (EPA). Where he discussed with the General Manager of EPA Sheikh Abdullah Al-Ahmad Al-Humoud Al-Sabah ways of furthering bilateral cooperation in line with Memorandum of Cooperation (MOC) between the two parties, on September 9, 2021. 
The meeting included a tour of the work mechanism of the departments of EPA, analytical laboratories, and modern technological systems in the environmental fields. 
Also representing KDIPA during the meeting Sheikh Abdullah Al Sabah, Assistant Director General for Investment Operations, Mr. Mohammed Saleh Al Ojery, Assistant Director General for Financial and Administrative Affairs, Mr. Mohammed Yousef Mulla Yaqoub, Assistant Director General for Business Development, Mr. Bader Al Jadi, Director of Promotional Activities Department, Mrs. Fatima Al Sayegh, Director of the Technical Office Department, Mrs. Reem Al Shaye, Director of Legal affairs Department, Sheikha Fatima Al Sabah, Director of Public Relations and Media Department, Mr. Ali Al Khudari, Director of Planning and Strategy Department. Mrs. Lulwa Al Askar, Head of Public Relations section.