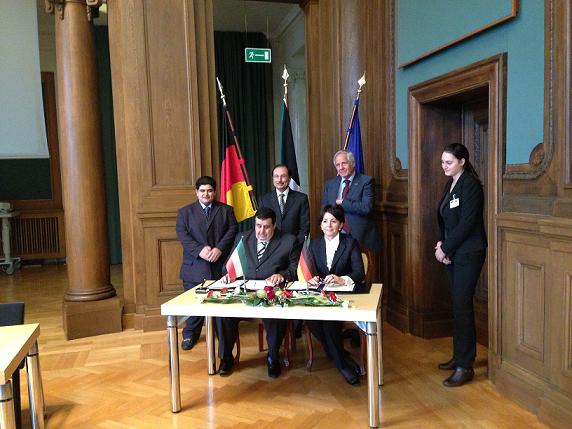 16 -December-2012, Kuwait Foreign Investment Bureau (KFIB) participated in the Kuwaiti Delegation, headed by the Undersecretary of the Ministry of Commerce & Industry, to the third meeting of the Kuwait – German Joint Committee, held in Berlin, Germany; the meeting took place during the period 28-29 November 2012 with the objective to discuss economic cooperation between the two countries. KFIB representative, Abdallah Al Sabah provided a presentation on the overall investment climate in Kuwait, the incentives and guarantees provided under FDI Law No. 8/2001, and the role of ISC in improving investors relations. The previous two meeting for the joint committee were held in Berlin (2008), and Kuwait (2010) during which a joint political and economic agreement was signed.
During this visit, KFIB was invited to deliver a similar presentation at the Fourth Arab -German Education & Vocational Training Forum; the forum was organized by the Arab – German Joint Chamber of Commerce & Industry to present opportunities and channels of cooperation in this vital sector. KFIB informed the participants that Education and Training was recently approved as the 14th open sector for foreign investment in Kuwait.
Kuwait is a major trading partner with Germany and its sovereign investments are amongst the leading ones in Germany for 40 years. Kuwait entered into a bilateral agreement with Germany on encouragement and protection of investment (November 1997), and another on avoidance of double taxation (December 1987).