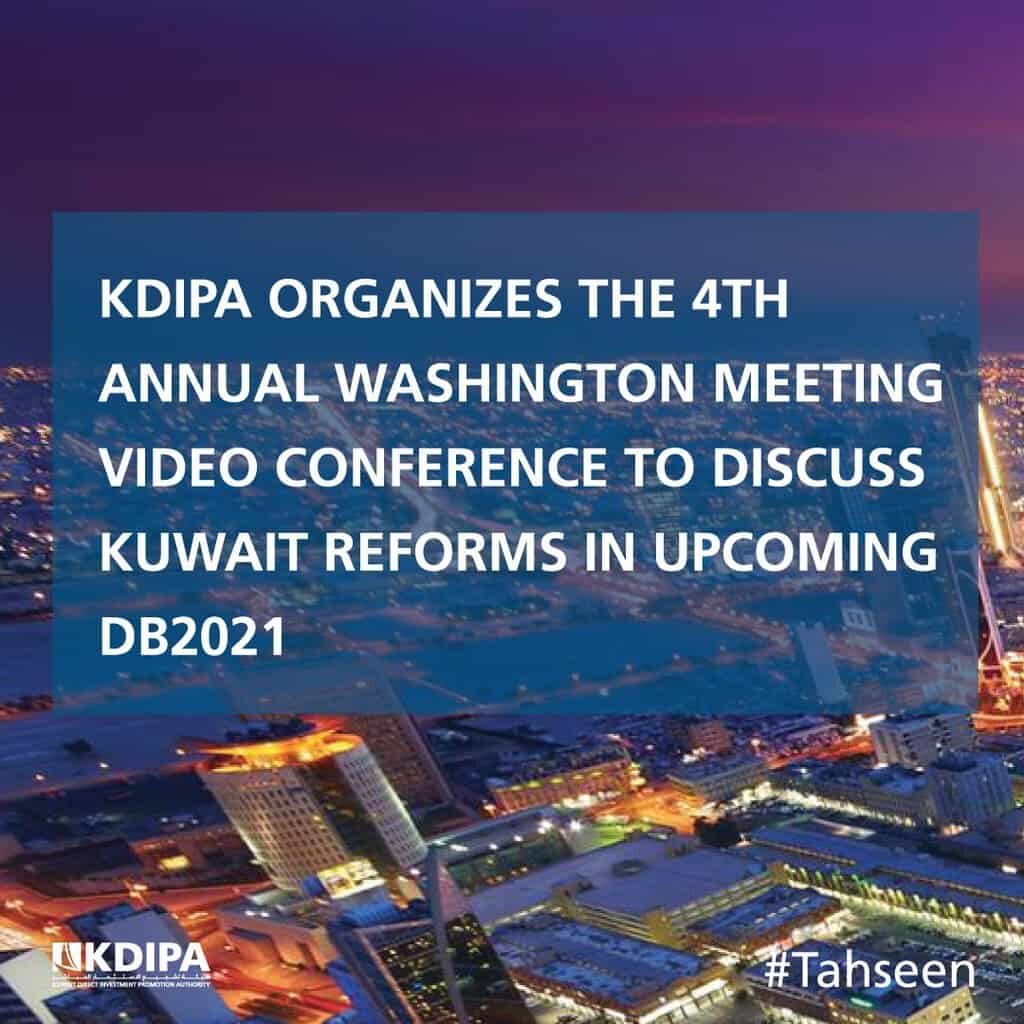 KDIPA organized the fourth annual meeting video conference with the Doing Business Team in Washington D.C that was held online at KDIPA's headquarters during the period April 6-8, 2020. This task is undertaken as part of KDIPA's role in presiding over the Permanent Committee for Streamlining Business Environment & Enhancing Competitiveness in the State of Kuwait (PCK). The significance of this meeting reflects continuing the reform measures and enhancing current efforts to streamline business environment in Kuwait to attract more investments that will achieve the National Vision 2035, and the goals of the pillars of New Kuwait pertaining to economic diversification and supporting the role of the private sector.
The meeting was headed by KDIPA Director General and Head of PCK, Sheikh Dr. Meshaal Jaber Al Ahmad Al Sabah, and included the following members of PCK: Consultant Jamal Al-Jalawi, General Administration of Customs, Mr. Omar AlSharqawi, Ministry of Justice, Mrs. Shuaa Akbar, Central Agency for Public Tenders, Dr, Khaled Mahdi, General Secretariat of the Supreme Council for Planning and Development, Mr.Ahmad Al-Rasheedi, Ministry of Electricity and Water and Dr. Saleh Al-Aqely, Ministry of Commerce and Industry, and Eng. Suha Ashkanani, Public Authority for Roads and Transportation. As well as the work teams for each of the components of the ease of doing business index representing the Ministry of Electricity and Water, the Ministry of Justice, Central Agency for Public Tenders, Kuwait Customs, Capital Markets Authority, Kuwait Municipality, Public Authority for Roads and Transportation and the Ministry of Commerce and Industry.
During the three days, Kuwait position in the Doing Business Report 2021 (DB2021) was discussed pertaining to the following components: starting a business, dealing with construction permits, getting electricity, registering property, enforcing contracts, protecting minority investors, trading across borders and contracting with the government. The work teams provided live demonstrations of e-services and explained in detail the reform procedures undertaken and the resulting impact be it reduction of number of procedures, duration and cost, or amending legislation by issuing new decisions or circulars that contribute to improve the legal environment according to international best practices.
KDIPA was represented by Mrs. Fatima H. Al Sayegh, Director of the Technical Office Dept. and Rapporteur of PCK; Mrs. Mona S. Bseiso, Economic Consultant and member of PCK, Mr. Amr Wageeh, Legal Consultant, Mrs. Lina Adlouni, Legal Consultant, Ms. Fatma AlSabah, Head of Public Relations, Eng. Farah AlOjairi and Eng. Ebtehal AlMesbah, from the Economic Zones Department.