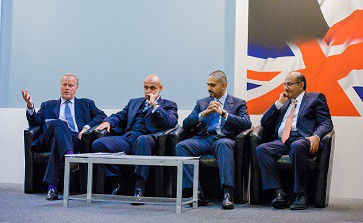 8- May- 2013 , Kuwait Foreign Investment Bureau (KFIB) Chief Dr. Meshaal Jaber Al Ahmad Al Sabah participated in joint Kuwaiti-UK Trade & Investment (UKTI) event under the theme "Opportunity Kuwait"" held in London on May 8, 2013. His participation was part of a high level delegation that included Anas Al-Saleh Minister of Commerce & Industry and Chairman of Foreign Capital Investment Committee (FCIC), Engineer  Salem Al-Utheina Minister of Communications & Minister of State for Housing Affairs, Sheikh Mohammad Abdullah Al-Mubarak Al-Sabah Minister of State for Cabinet Affairs & Minister of State for Municipality Affairs, Adel Al-Roumi President of the Partnerships Technical Bureau (PTB), Dr. Mohammed Al-Zuhair member of the Supreme Council for Privatization. The conference was attended by a sizable audience of representatives from various public and private economic entities from both countries.
KFIB Chief  provided a presentation covering the main attributes of Kuwait investment climate,  what makes it unique as benchmarked against other countries, the favorable impact of the recent legislative developments, in addition to introducing KFIB services, the incentives and guarantees granted for investors, open sectors for FDI, and the ongoing promotional activities between KFIB and the British media both printed and online. KFIB Chief also took part in the panel session and responded to the Q&A afterwards. During the event, he met with several interested executives of legal, financial and media firms, sector oriented companies in infrastructure, petrochemicals, design, project management, and energy, as well as some representatives of  trade and business groups.
Kuwait and UK enjoys a distinct and elongated relation that covers various areas including tourism, education, healthcare and especially investment and trade whereby Kuwait is a strategic trading partner with UK, as both parties have agreed back in 2011  to double the annual trade volume to a target of US$ 4 billion by 2015.