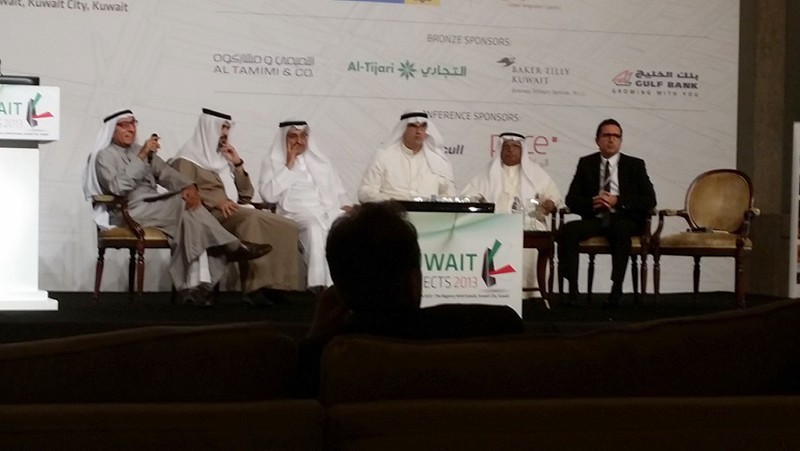 Kuwait Direct Investment Promotion Authority (KDIPA) in partnership with MEED organized a half day pre-conference workshop on November 24, 2013 under the theme "Investing in Kuwait", ahead of MEED's annul conference Kuwait's Projects 2013 held during the period November 25-26, 2013, and held two post conference workshops on November 27, 2013 on model project management and effective project procurement in Kuwait. The workshop opening remarks were provided by Mr. Edmund O'Sullivan Chairman of MEED Events, followed by an opening address given by Dr. Meshaal Jaber Al Ahmad Al Sabah, Director General of KDIPA who welcomed the participants in the workshop and indicated that the workshop aims to showcase the latest positive developments in the legislative environment with the passing of Law No. 116 for 2013 for the Promotion of Direct Investment in the State of Kuwait and the new Commercial Companies law No. 97 for 2013 to highlight how both laws made it easier for local and foreign companies to do business in Kuwait, as well as the insolvency and creditors rights draft law (ICR) that intend to provide the exit for companies to go into liquidation and establish a commercial court, ending with an overview on Kuwait's business and tax structures. These four topics were covered in detail through various presentations given respectively by KDIPA's Legal Counsel, the Assistant Undersecretary for Legal Affairs at the Ministry of Commerce & Industry, a World Bank Senior Council, and the Managing Director of the consulting firm" Protiviti".
KDIPA also participated in two panel discussions during the conference one on Funding and Financing Kuwait's Future Expansion, and the other on the Kuwait Method: Discussing Kuwait's Political Reform and Decision Making Base on its Projects Program and Ability to Move Forward. The conference tackled projects worth more than US$ 24 billion in contracts to be awarded in 2014, double the value in this year, focusing in the oil and gas sector, hospital expansion program, new Kuwait international airport terminal, and PPP projects especially in Independent water& power generation (IWPP).
Attendees of the event were more than 100 professionals including investors, bankers, financial specialists, regional and international companies, legal and management consulting firms, as well as government officials, and commercial officers at embassies in Kuwait.
Please check link for more details