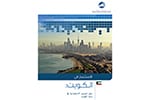 Investing in Kuwait: A Guide for Investment Opportunities in Kuwait
The "Investing in Kuwait: A Guide for Investment Opportunities in Kuwait" was launched on July 29, 2013 by KPMG Advisory W.L.L. Kuwait for the benefit of and in cooperation with Kuwait Foreign Investment Bureau (KFIB).
The Guide, the first of its kind, provides a general overview of the Kuwaiti economy and its main attributes, as well as sector profiles that reflect potential investment opportunities, and portrays the role of KFIB in servicing investors under FDI Law No. 8 for 2001, relevant other matters, and business forms in the country, ending with several annexes that covers Kuwait economic performance, life in Kuwait, important economic legislations, main stakeholders and their contact details, terminology glossary, and a list of the country's bilateral agreements for the protection & encouragement of investment and avoidance of double taxation.
The Guide has showcased a host of potential investment opportunities focusing on infrastructure, environmental services, downstream-chemical manufacturing, education & training, healthcare, integrated housing projects & urban development, storage & logistics services, banking, financial services & insurance, air, maritime & rail passenger transport, tourism, hotel & entertainment, web & APP development, culture, media & marketing.
A rigorous opportunity assessment process was co-developed based on a scoring model analysis to determine the overall attractiveness rating for the potential opportunities for the sectors that were selected based on a set of strategic guiding principles.
As of June 16, 2013, the passage of Law No. 116 for 2013 regarding the promotion of direct investment in the State of Kuwait has repealed Law No. 8 for 2001 regarding Direct Foreign Capital Investment in the State of Kuwait. Thus all funds, assets, obligations and rights relevant to KFIB were transferred to the newly established Kuwait Direct Investment Promotion Authority (KDIPA). However, this Guide will remain as a useful source of information for investors, and for providing a good basis to develop future guides that will under the new authority.
Please click on the link below for a copy of the Guide
http://www.kfib.com.kw/images/kuwait-dipa/investment-guide-en.pdf